Welcome to our blog post about Fire Rated Shutter London for high-risk buildings and facilities. As a building owner or manager, ensuring the safety of your property and occupants is of utmost importance. One potential threat that cannot be overlooked is the risk of fire. shutters are an effective solution that can help prevent the spread of flames and smoke in case of a fire emergency. In this article, we will explore who needs these shutters, the importance of these shutters in high risk buildings and facilities and who can obtain them to consider before investing in them. So let's dive in!
Who needs shutter services?
If you own or operate a high-risk building, such as a hospital, school, or hotel, you need Fire Rated Roller Shutter products. These types of buildings are more likely to experience fires due to the large number of people present and the potential for electrical equipment malfunctions.
shutters provide an additional layer of protection against fire by preventing flames from spreading between rooms and floors. They're also effective in containing smoke and toxic fumes that can cause harm to those inside the building.
In addition to high-risk buildings, industrial facilities that store flammable materials or chemicals should also consider installing shutters. This is because these substances can ignite easily and spread quickly if not contained properly.
It's essential to ensure that your building meets all local safety codes regarding fire protection systems. Failure to comply could result in hefty fines or even legal action if there is an incident.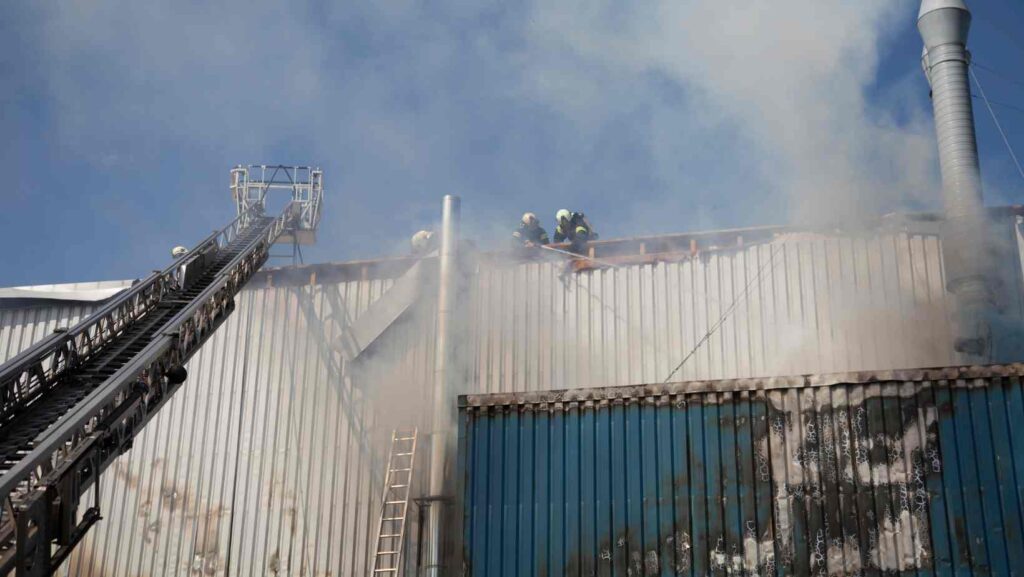 Anyone who values their property and cares about the safety of their occupants should strongly consider investing in shutters as part of their overall fire protection strategy.
High-Risk Buildings and Facilities with Shutters
Services are an essential safety solution for high-risk buildings and facilities. These shutters act as a barrier to prevent the spread of fire, smoke, and toxic gases throughout a building in the event of a fire. They offer vital protection for inhabitants and originate from materials that can endure severe temperatures.
shutters work by compartmentalizing areas of a building during a fire, allowing people to evacuate safely while limiting the spread of flames to other parts of the structure. This is especially important in buildings where hazardous materials or equipment are present, such as chemical plants or manufacturing facilities.
Facilities that require shutters include industrial warehouses, hospitals, hotels, schools, airports and government buildings. Any building with large numbers of people gathered inside poses significant risks in case there is a sudden outbreak of fire; hence it's necessary to have these installed.
The benefits of installing shutters extend beyond safety concerns alone. Shutters also offer energy efficiency features when closed tightly around windows or doors preventing heat loss during winter months saving money on heating bills while keeping homes warm.
While these types of doors come with many advantages like reducing property damage resulting from fires; they do have some drawbacks too – one being their cost which varies depending on size installation needs/materials used making them less affordable than usual doors/shutters alike
Many companies specialise in providing top-quality Shutters at competitive prices offering customers reliable solutions without breaking their bank accounts enabling businesses to meet regulatory standards conveniently within budgetary constraints whilst ensuring staff/occupants' safety at all times
How can I obtain a fire shutter door for my building?
There are a few measures you may take if you want to purchase a Fire Shutter Door for your building. First, do some research to find reputable companies that specialise in installing these types of shutters. Look for companies with experience and positive customer reviews.
Once you have identified potential installers, schedule consultations with them to discuss your needs and obtain quotes. During the consultation process, be sure to ask questions about the installation process, warranties offered, and any maintenance requirements.
When comparing quotes from different companies, look beyond just price. Consider factors such as quality of materials used and level of expertise demonstrated by the installer.
Before making a final decision on which company to use for installation, be sure to check their licensing and insurance status. You want to ensure that they have all necessary permits and that they carry liability insurance in case anything goes wrong during the installation process.
Working with a qualified professional will help ensure that your shutter installation is done safely and effectively.
Conclusion
shutters are a must-have for any high-risk building or facility. They provide an added layer of protection in case of fire and can save lives and property. While they may come at a higher cost than regular shutters, the benefits far outweigh the price tag.
When considering getting Services for your building, it's important to choose a reputable supplier who can provide quality products that meet safety standards. It's also essential to ensure proper installation and regular maintenance to guarantee their effectiveness.
Investing in shutters is not only a smart financial decision but also a responsible one as it shows your commitment towards ensuring the safety and well-being of those occupying your building or facility.